Please Don't Let Me Die
A Father's Journey Through Grief
and the Criminal Justice System
by
Patrick McCarthy led a simple, unassuming life. He and his family were thrust into a world where very few have traveled. After a night spent with friends, his sixteen year old daughter was found dead in the morning. What happened? Who is responsible? Patrick seeks answers and justice for those responsible. Follow the pursuit of justice from a grief stricken father, written as events were unfolding. Current books only deal with grief. This book includes a father's grief, the legal system with its complications and a lengthy trial with an unexpected outcome.
From the Back Cover
Danielle is born into a large family; she is the youngest of seven children. At sixteen she is active, has many friends and has plans for college. December 31st, 2006, she spends the night across town at a friend's house but it goes horrible wrong. On the morning of January 1st, 2007 her parents get the heartbreaking news that Danielle died at the hands of others. The parents now struggle to bury their youngest daughter, having never experienced this type of tragedy to this magnitude; they must fight through the grief and disbelief that their youngest daughter had died. A grief stricken father wants answers. Arrests are forthcoming. How could this have happened? Why did she have to die? Why didn't those around her get her the medical help that she needed? Will this nightmare ever end? After close to two years of court dates and a lengthy trial, a family torn must now move on.
From the Author
After my daughter died I didn't know what to do and my mind was cluttered with too much information and details. I sat down and started to write everything down in detail to help ease my mind. As the days, months and years past, I would look back on my notes and realized I had a story to tell. I want to give others hope, to let others know that there is a chance for justice and it's OK to openly grieve as a man and as a father. The justice system is not what I thought it was, it is complicated and it takes time. It will also take a toll on your mind and body. This book will put you in the courtroom and you will experience the heartache I have gone through and will continue to go through for the rest of my life.
About the Author
Patrick McCarthy was a general contractor in the state of Washington. He moved his family to Southern Oregon in 2010 where they currently reside. Living a simple life, raising his children in a quiet neighborhood, he was thrust into the criminal justice system after his daughter's death. Having never dealt with the justice system before, he had to learn, through research on the internet, as much law as possible in order to understand the system and get justice for his daughter. Patrick has been married to Lisa for twenty four years and is the father of seven children, Danielle being the youngest.
Connect with the author
Click here to buy from Amazon in Paperback
Click here to buy from Amazon for Kindle
Click here to buy from Barnes & Noble in Paperback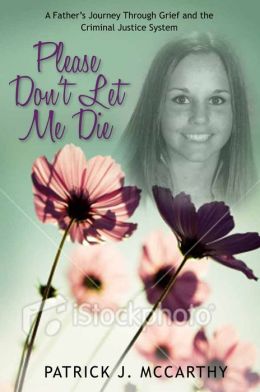 Click here to buy from Barnes & Noble for Nook