Free ebook EXTENDED through
March 31st!!!
Paperback giveaway at Goodreads
Giveaway dates:

Mar 15-Apr 30, 2013
2 copies

available,

69 people

requesting
This new parody ebook will be available absolutely free in the format of your choice at
https://www.smashwords.com/books/view/283755
Reviews are highly appreciated.
Des

cription
Return to the film with mayhem, mirth, and magic missiles—or at least, crumpled newspaper missiles. Torn Teepeeshield, the Hot Prince of the Dwarves, puts aside his developing stardom in dwarf cabaret to quest to the Lame Old Mountain and destroy the dragon Erpolushun, or in the common tongue, Smog. It's up to Bumble Baglunch to save the day with his knowledge of pop culture. Together with Bobbin, Noggin, Rover, Clover, Sloppy, Ploppy, Frappe, Hottie, Spottie, Quaff, Sloth, and Ezekiel the dwarves, they journey across Renfair Earth to revive their franchise. Destiny may be a word writers use to pave over plotholes, but Bumble is determined to triumph nonetheless and play as good a game of goblin golf as his ancestors.
http://www.vefrankel.com
for more info.
About the Author
Valerie Estelle Frankel has won a Dream Realm Award, an Indie Excellence Award, and a USA Book News National Best Book Award for her Henry Potty parodies. She's the author of many books on pop culture, including From Girl to Goddess: The Heroine's Journey in Myth and Legend, Buffy and the Heroine's Journey, Katniss the Cattail: An Unauthorized Guide to Names and Symbols in The Hunger Games, Teaching with Harry Potter, and Harry Potter: Still Recruiting. Once a lecturer at San Jose State University, she's a frequent speaker on fantasy, myth, pop culture, and the heroine's journey. Her latest book is the Hobbit spoof, An Unexpected Parody. Learn more at
www.HarryPotterParody.com
.
Click here to get your FREE copy from Smashwords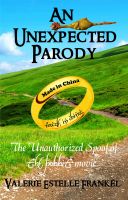 Click here to buy a copy from Amazon for Kindle