A Search for Donald Cottee
by
Philip Spires
Description
A Search For Donald Cottee is a novel about individualism. It's also a parody of Don Quixote, reinterpreting the Don's quest in
contemporary terms and also using several of the scenes from Cervantes's tome.
Donkey and his wife, Poncho Suzie, have retired to Benidorm on Spain´s Costa Blanca. Don has left behind his incessant self-education
and Suzie has turned the corner of her illness. Their new life is parked on the salubrious La Manga campsite and from there they
pursue their ambition of eternal holiday. To savour the developing experience, and to make its potential paradise available to all,
they blog.
But they can never escape their origins, even as their new future unfolds, perhaps disintegrates into the present. Episodes from the
past reappear, reincarnate themselves. Don's environmental campaigning and Suzie's quest for business success fill the time.
And then they discover that their friends, some old, some new, some related, others not, are transacting the businesses of their own
lives. There is money in vice, more in property, even more in merely trading people.
In a world where competition is the norm, where a dog's only possible diet is another dog, Don and Suzie are determined to do good
works, to be honest and loyal to all, to support what is right. But then, in the final analysis, when the jigsaw of lives is broken
apart, we see that perhaps the pieces never did fit. And so, still trying to do good, Donkey Cottee and Poncho Suzie leave us with an
enigma. Or is it a riddle?
Author bio
Philip Spires is the author of five books. The latest novel is A Search for Donald Cottee, a parody of Don Quixote set in a Benidorm
caravan park. Two African novels, A Fool´s Knot and Mission are set in Kenya. Both are set in Kitui and feature the same characters
who deak with the pressures of rapid cultural, social and economic change. Voyagers is a set of travel stories set in Vietnam, Brunei,
Sri Lanka, Yugoslavia, England, Italy and Turkey. 50 Of The Best is Martin Offiah´s choice of the best rugby league action in recent
years. Philip Spires co-authored the book. Philip Spires was born in the UK and has lived in West Yorkshire, London, Kenya, Brunei and
Abu Dhabi in the Emirates. He currently lives in La Nucia, near Benidorm in Spain.
Connect with the author
Website:
http://www.philipspires.co.uk/
Blog:
http://www.philipspires.blogspot.com.es/
Click below to buy from Amazon for Kindle
Click here to buy from Amazon UK for Kindle
Click here to buy from Barnes & Noble for Nook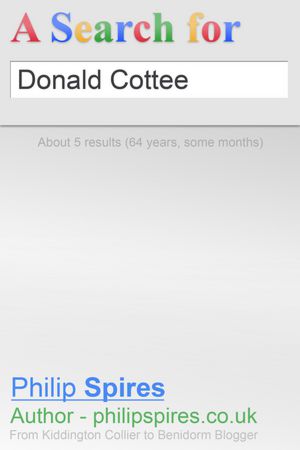 Other buy links