Description
Ava Valentine is a time-traveling bounty hunter from the distant future. She's chased her fugitive back to present-day New York City, where she anticipates an uneventful capture even though she's a little on edge because she's meeting a new contact.
Dexter Stone is a mysterious soldier of fortune who's agreed to take Ava to her bounty--for a fee. What Ava's not expecting is to get mixed up with a man she suspects is a vampire!
After a run-in with an unsavory character from Ava's past, she and Stone are forced into an uneasy alliance. But very soon she'll discover she could be Stone's saving grace--or his downfall.
Please note: Staked is a novella of approximately 25,000 words.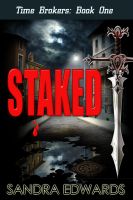 Check out this author's other titles.
All links below are for Kindle versions however you can visit the author's author pages at Smashwords and Barnes & Noble for the same titles.