Science fiction and fantasy author who started writing with co-author, David W Small in 2006. Writing with a co-author is challenging in itself, but when one author lives on the East Coast and one lives on the West Coast, the challenges are a bit more daunting, but because we live in an electronic world of email, Instant Messenger and Skype, the partnership is totally workable.
They have 2 science fiction novels, "Quest for Nobility" and "Crystal Facade" of the RULE OF OTHARIA trilogy available for sale as well as two novellas "The Right Path" and "Path to War" in the DARK FUTURE series.
Check out Debra's author page at Amazon.com
http://www.amazon.com/Debra-L.-Martin/e/B003Q1WLXY/ref=ntt_athr_dp_pel_1
At the time I scheduled this post,
The Right Path (Apocalyptic Novelette) (Dark Future Series)
was FREE at Amazon and Barnes & Noble.
Description
Abraham "Ham" Jones, a cripple, and Zia Slate, a tomboy with an attitude, find themselves unlikely partners in this post-apocalyptic tale of survival. It is decades later since the world blew itself apart. Life is harsh, gangs rule the streets, the system cops keep the peace anyway they can. Being a kid in this world isn't easy, being a cripple is about the worst sentence handed down. Being a girl with no protection is only slightly better.
Ham and Zia's lives are irrevocably changed when they meet a mysterious old man bearing gifts - a cane for Ham and a knife for Zia. But, nothing is as it seems. Everyone wants something and no good deed goes unpunished. Forced into a desperate encounter, they must fight for their lives when it's discovered they now have possession of two of the legendary memory weapons, the very weapons that ultimately destroyed the world.

THE RIGHT PATH is ~12,000 words.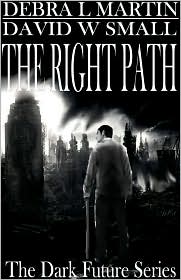 Description
Can a ragtag band of soldiers save what's left of the USA?

In a last ditch attempt to turn the tide in a desperate war, General Matthew Smith of the American Freedom Fighters asks Samurai Master Kenzu to make a batch of the famed memory weapons--weapons that infuse its user with the skills and memories of a samurai warrior. But, in the wrong hands, the users can become uncontrollable killing machines who don't care whom they kill - friend or foe.

When General Smith orders Commander Hurley and his unit of augmented soldiers test the weapons, he believes that he's doing the best thing for all of the men under his command. What General Smith believes, however, and what is true is entirely two different things and Smith must live with the consequences of his decision.

PATH TO DESTRUCTION is ~10,000 words.
Description
The parents of royal Otharian twins Darius and Dyla have been murdered; their cousin is stealing their throne, and they are falsely accused of murder. Their only choice is to flee to the forbidden and quarantined planet Earth, but it could turn out to be a one-way trip.

To return home, they must find an ancient crystal, that once belonged to Merlin, to power the return portal. When the twins stumble upon the location of the crystal, the local crime boss sends out his assassin to retrieve it. Can Darius and Dyla use their PSI powers to open the portal home and reclaim their throne before the assassin catches up to them?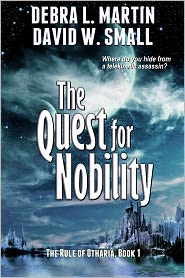 Description
Royal Otharian twins Darius and Dyla Telkur have a big problem: they know too much about a secret sect of their countrymen living on the forbidden planet Earth. On a previous trip to Earth, they traced the sect's lineage back to the time of Merlin, but a run-in with a local crime boss forced them back to Otharia before they could unravel the mystery.

Now Dyla is dreaming again. Her dreams of the London crime boss portend an imminent threat to her family and she has no choice but to secretly return to Earth to find out what they mean. What the twins don't realize is they're walking into a conspiracy involving a centuries old interplanetary smuggling operation. Will they be able to capitalize on their superior PSI powers to get the answers they need before they fall victim to a telekinetic assassin that has followed them across the galaxy?