To submit to my blog for giveaways, contests and sales please check out my Submissions page for more information.
Smashwords Giveaways
The Yellowstone Caldera has erupted once every 600,000 years. We're 40,000 years overdue. Lava flows stretch for hundreds of miles. A cloud of ash billows east, burying the Midwest, destroying crops, and falling upon the Pacific Coast like a warm, dead snow. The remnants of the United States flees south as the global temperatures plummet. These are the stories of the survivors.
Jacob Cox is 18 and finds himself running his family's new business, a dilapidated bar in a forgotten seaside town. Jacob longs to escape his family of villains, liars and psychopaths. Could the bar be his last chance to make money and get away from everyone he despises? Is his family really that bad or is he actually worse than all of them put together? A screwball comedy about family.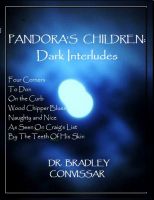 A collection of my first five short stories, plus two new ones, all in one place! the new stories include "By The Teeth Of His Skin", a dark tale of the wicked way the mind works, and "Naughty and Nice", a twisted Christmas tale.
Angel Fire
by Valmore Daniels
-
2011 Hugo Award Nominee for his title Forbidden The Stars
Priced at only 99¢ until the end of April.
Description:
Angel Fire: The First Book of Fallen Angels
++++++++++
My name is Darcy Anderson, and I am cursed with a dark power: Whenever my life is in danger, something inside me summons elemental fire to protect me. I cannot control this.
One night, I was attacked in my home. The fire ... it raged out of control. I survived the inferno, but my house burned to the ground - with my parents inside.
I was at a loss to explain to the courts what happened, and so they sent me to prison for ten years for manslaughter.
Now I'm out on parole, and all I want is to return to my home town and rebuild my life; but the man who attacked me is back to finish the job he started.
I can sense the power in me growing. If I can't control it, it will control me and destroy everything - and everyone - I love.
++++++++++
This is the first of five novels in the Fallen Angels saga.
++++++++++
BONUS MATERIAL:
Included is an excerpt of "The Gods of Dream" by fantasy author Daniel Arenson.
Failing Test
by J.M. Pierce
Currently priced at 99¢
Description:
You know him, but you can't remember his name. He is the one that is always there, in the background, all but invisible to those roaming the hallways. What if he had a secret? What if it was a secret that even he didn't know?
Test Davis has always been a blur to those around him. He's a shadow like a million other kids--not smart enough for the academic team, not beast enough for the football team, not extroverted enough for the drama crowd. In all things Test is just...not, which is why no one ever notices him.
But what happens when someone does notice him-- Nicole Paxton, a cheerleader, no less? What happens on the night that Test finds out there's nothing average about him and that a powerful gift has been hidden within, secretly waiting to be set free and alter his life forever? The question is, will that power save him and those he loves or tear them apart?
As an added bonus, you can read an excerpt from Dawn McCullough-White's dark fantasy novel, Cameo and the Highwayman!
Dead to Writes
by Cathy Wiley
Only 99¢!
Description:
Cassandra Ellis is a soon-to-be published author, days away from achieving her lifetime goal. But before she can celebrate, before she can even have her first book signing, she's brought in to Baltimore City Police Headquarters for questioning in connection to a real-life murder.
It seems she's the last person to see the victim alive, since she had just met with the former arsonist to conduct research for her next book. Most damning, her day planner was found next to the body.
When another of her subject matter experts is killed-- again right after meeting with her-- Cassie decides to investigate things herself, rather than leaving it in the hands of the police. Although she'd love to get her hands on the homicide detective assigned to the cases.
Using all the tools available to her, including her research skills, her knowledge of murder and murderers, and… psychic parrots, she tries to solve the case before another friend is killed. Along the way, she finds out that murder in real life is different than murder on the page.
Death Rhythm
by Joel Arnold
99¢ through April
Description:
In this novel of psychological horror and suspense, Andrew Byrd learns of his mother's sadistic past through an aunt he's only just met. When he meets his aunt's strange neighbors, he quickly learns that his mother's savage adolescence was only the seed for a series of awful events unfolding in the present. Will he be able to stop them before it's too late?
And what about the mysterious Evelyn? Will the echoes of an old drum lead Andrew to her? Or will they merely draw him into a vicious cycle that is impossible to stop?
About the author:
Joel Arnold's writing has appeared in dozens of publications, with work accepted by venues ranging from Weird Tales, Cemetery Dance and Chizine to American Road Magazine and Gothic.net. Many of his short stories are available as free podcasts at Pseudopod.org, and three of his short story collections have already been made available for the Kindle. He recently received a 2010 Minnesota Artists Initiative Grant from the Minnesota State Arts Board, as well as a 2010 Gulliver Travel and Research Grant.