To submit to my blog for giveaways, contests and sales please check out my Submissions page for more information.
Giveaway dates:
Mar 25-Apr 04, 2011
5 copies
available,
511 people
requesting
From chaos to counterintelligence, secret messages to gadgets and every other spy thing in between, Bart King's Big Book of Spy Stuff opens the "top secret" file on the world of sabotage and espionage with humor and amazement. Through King's entertaining text, kids will also uncover what lies beyond the sunglasses and disguises of some famous and not-so-famous sneaks.
Smashwords Giveaways
The Yellowstone Caldera has erupted once every 600,000 years. We're 40,000 years overdue. Lava flows stretch for hundreds of miles. A cloud of ash billows east, burying the Midwest, destroying crops, and falling upon the Pacific Coast like a warm, dead snow. The remnants of the United States flees south as the global temperatures plummet. These are the stories of the survivors.
Jacob Cox is 18 and finds himself running his family's new business, a dilapidated bar in a forgotten seaside town. Jacob longs to escape his family of villains, liars and psychopaths. Could the bar be his last chance to make money and get away from everyone he despises? Is his family really that bad or is he actually worse than all of them put together? A screwball comedy about family.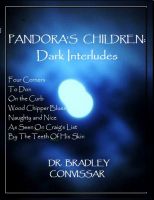 A collection of my first five short stories, plus two new ones, all in one place! the new stories include "By The Teeth Of His Skin", a dark tale of the wicked way the mind works, and "Naughty and Nice", a twisted Christmas tale.
Foxy's Tale (The Reluctant Vampire Series, Book 1)
Foxy Anders has a list of problems as long as a shopping spree receipt from Neiman Marcus. She's a retail spender with no money to spare and a former beauty queen with no man in her life. After a nightmare divorce she's left with one asset, a building off Washington, D.C.'s classy DuPont Circle. By turning the ground floor into an antique shop, Foxy figures she has an excuse to spend money … that she doesn't have.
Foxy also has a teenaged daughter, Amanda, who likes to blog secretly about her biggest problem – Foxy. At least, she thinks Foxy is her biggest problem. But that's all about to change when she hooks up with Nick, a cute guy at school who evidently has a gift for attracting older women. Amanda just doesn't know HOW much older they really are.
When Foxy rents the garden apartment to stylish, shoe-fettishista Knot, who turns out to have a knack for talking wealthy Washington A-listers into Foxy's antiques, it looks as if Foxy will make it on her own after all. Except that Knot is also a genius at creating problems … in his love life.
They're a quirky threesome to be sure, but when mysterious, bumbling, Myron Standlish arrives on the scene with a suitcase full of Yiddish-isms, he brings along his own set of problems, larger and stranger than all of theirs put together. Oy vey. How will Myron's personal journey affect their lives? Well … that's Foxy's Tale.
A comic, chick lit, coming-of-age, vampire tale (sort of) where family triumphs over adversity and mother and daughter learn how to face the world as grownups – together.
The Quest for Nobility
by Debra L. Martin & David W. Small
On sale for only 99¢ until April 21st
Description:
The parents of royal Otharian twins Darius and Dyla have been murdered; their cousin is stealing their throne, and they are falsely accused of murder. Their only choice is to flee to the forbidden and quarantined planet Earth, but it could turn out to be a one-way trip.
To return home, they must find an ancient crystal, that once belonged to Merlin, to power the return portal. When the twins stumble upon the location of the crystal, the local crime boss sends out his assassin to retrieve it. Can Darius and Dyla use their PSI powers to open the portal home and reclaim their throne before the assassin catches up to them?
The Gods of Dream
by Daniel Arenson
Currently on sale for only 99¢
Description:
Visited Narnia and Middle Earth? Now escape into Dream.
What are dreams? Some think they are figments of our mind. But what if they were wisps of a distant, magical world... a world you could visit?
Twins Cade and Tasha discover Dream, the land dreams come from. It is a realm of misty forests, of verdant mountains, of mysterious gods who send dreams into our sleep. Cade and Tasha seek solace there; they are refugees, scarred and haunted with memories of war. In Dream, they can forget their past, escape the world, and find joy.
Phobetor, the god of Nightmare, was outcast from Dream. Now he seeks to destroy it. He sends his monsters into Dream, and Cade and Tasha find their sanctuary threatened, dying. To save it, the twins must overcome their past, journey into the heart of Nightmare, and face Phobetor himself.
Discover a world of light and darkness, of hope and fear, of dreams and nightmares. Discover
The Gods of Dream
.
Angel Fire
by Valmore Daniels
-
2011 Hugo Award Nominee for his title Forbidden The Stars
Priced at only 99¢ until the end of April.
Description:
Angel Fire: The First Book of Fallen Angels
++++++++++
My name is Darcy Anderson, and I am cursed with a dark power: Whenever my life is in danger, something inside me summons elemental fire to protect me. I cannot control this.
One night, I was attacked in my home. The fire ... it raged out of control. I survived the inferno, but my house burned to the ground - with my parents inside.
I was at a loss to explain to the courts what happened, and so they sent me to prison for ten years for manslaughter.
Now I'm out on parole, and all I want is to return to my home town and rebuild my life; but the man who attacked me is back to finish the job he started.
I can sense the power in me growing. If I can't control it, it will control me and destroy everything - and everyone - I love.
++++++++++
This is the first of five novels in the Fallen Angels saga.
++++++++++
BONUS MATERIAL:
Included is an excerpt of "The Gods of Dream" by fantasy author Daniel Arenson.
Venom of Vipers
by K.C. May
99¢ through this weekend only! (2011 Hugo Award Nominee!)
Description:
Ryder wants to be more than a lab rat; he wants to be free.
Katie wants him to save the world.
Purists want him dead.
A supervirus threatens to wipe out the human population.
The only hope for the future is a cure hidden inside Ryder Stone. Created in a lab and brutalized, betrayed and hated by humans, Ryder yearns for freedom. On the outside, a group of human genetic purists want him dead.
When Katie Marsh, a brilliant young geneticist, discovers his secret, she must fight to protect Ryder, gain his trust...and convince him to save humanity before the purists destroy them both.
Space Junque
by L.K. Rigel
Currently on sale for 99¢
Description:
Space Junque (also known as Hero Material) is a novella, about 28,000 words or 112 pages.

Edited by USA Today bestselling author Anne Frasier/Theresa Weir

Nominated for Best Romantic Science Fiction/Fantasy in 2010 and Best Debut Book in 2010 by The Romance Reviews.
The DOGs want to destroy the world. The gods want to make a new one. The trick is to survive both.
The world is on the brink of ecological cataclysm set off by the Oil Spill of 2010 and the Great Sea Level Rise of 2070. Hydroponics agronomist Char Meadowlark has become a recluse since her fiance was killed by a terrorist bomb and her twin sister Sky went underground to protect a top secret alternative energy project. Warned about an impending eco-terrorist attack, Char tries to get off planet, but the Defenders of Gaia strike while she's at the airport. Shuttle pilot Jake Ardri might offer her only hope.
When the DOGs' onslaught goes global and the material world threatens to implode, the ancient gods reemerge to take control over humanity. Through the ensuing chaos, Char must juggle two men, a world on fire, and a goddess with an agenda for a new world order.
Bleeder
On sale for this weekend only! Get your copy for 99¢.
Description:
The third book in the Apocalypto series (includes Blue Amber)
Novel, 107,000 words
= = = = = = =
The King of Garrick wants to kill her.
The King of Allel wants to love her.
And shapeshifters stole her baby's soul!
It's been a hundred years since sea-level rise and global nuclear war wiped out most of humanity. Mallory is a chalice, one of the world's rare fertile females who contract with the kings of the Concord Cities to provide natural-born heirs.
It was supposed to be a pampered and uneventful life, but Mal becomes caught between King Garrick's scheme for world domination and the goddess Asherah's desperate plays for another god's attention.
Broken Wings
by Sandra Edwards
On sale for 99¢ until the end of April.
Description:
In this opening book of the Soul Searchers Series, a con-artist who's been hired to locate a buried treasure finds more than she bargains for.
Rio Laraquette thought the legend was nothing more than an enchanted tale about star-crossed lovers who left behind a fortune. That is, until she figures out that she—in a past life—was the culprit who stole a shipment of gold and silver and buried it somewhere in the hills of northern Nevada.
While searching for the treasure, Rio's heart begins to ache for a man who's been dead more than one hundred years. They say time heals all wounds, but what if it doesn't...?
** Book One in the Soul Searchers Series is a novella of approximately 45,000 words.
Failing Test
by J.M. Pierce
Currently priced at 99¢
Description:
You know him, but you can't remember his name. He is the one that is always there, in the background, all but invisible to those roaming the hallways. What if he had a secret? What if it was a secret that even he didn't know?
Test Davis has always been a blur to those around him. He's a shadow like a million other kids--not smart enough for the academic team, not beast enough for the football team, not extroverted enough for the drama crowd. In all things Test is just...not, which is why no one ever notices him.
But what happens when someone does notice him-- Nicole Paxton, a cheerleader, no less? What happens on the night that Test finds out there's nothing average about him and that a powerful gift has been hidden within, secretly waiting to be set free and alter his life forever? The question is, will that power save him and those he loves or tear them apart?
As an added bonus, you can read an excerpt from Dawn McCullough-White's dark fantasy novel, Cameo and the Highwayman!
In Decline
by Michael Crane
Only 99¢!
Description:
IN DECLINE
is a short story collection about people who are trying to get by the best way they can, for better or worse. Gossip, bizarre love, peer pressure, addiction, heartbreak and loss are only a few of the topics covered in these nine stories where characters are faced with tough choices and ugly truths about life, the world and within themselves.
ON SALE FOR $0.99! ONLY FOR A LIMITED TIME!
Convergence
by T.M. Roy
99¢ for a limited time!
Description:
Rett, a battle-weary soldier from Nyorfias, needs imagination. Pam, an imaginative dreamer from Earth, needs inspiration. Unknown to both women, a fledgling Guardian of Balance needs them both in a desperate stratagem to protect the very existence of the two-planet Nyorfian system, which is not only under attack from physical entities, but from the dark force that inspires them.
Pam's first ten minutes on Nyorfias, however, just about flushes Rett's military career down the nearest toilet. Can Rett learn to cope with being saddled with a dimwitted alien mindforce--and keep herself and her platoon alive at the same time?
CONVERGENCE is Book One in a three part epic adventure where the fate of an entire planetary system hangs in the balance.
GRAVITY (Book 2) is now available for Kindle.
STRATAGEM (Book 3) due summer 2011.
From the back cover:
When the going gets tough...the tough deal with it.
Or maybe not...
Sergeant Rett of the Nyorfian Special Forces is in the fight of her life, for herself and her worlds. She doesn't realize she's the key Player in a local battle of a Game of universal scope: the struggle of the Guardians of Balance to maintain a healthy equilibrium between evil and good, darkness and light.
The neophyte Guardian for Nyorfias, Pheasyce, faces an ancient and powerful force of Dark, and must risk all in a dangerous and unique strategem, one that uses Rett as the focus. Arranging the convergence between the key Player and an imaginative dreamer from another world could be the best tactic ever.
That is, as long as Pam, who thinks this is all a dream, doesn't get Rett killed first. And as long as Rett can accept this dimwitted alien mindforce... from some planet called Earth.
Price Reduced for a limited time! Book Two is now available!
((Originally published as Journey to Nyorfias, Book One, by Terran Moffat. The text has been revised.))
Gravity - Journey to Nyorfias, Book 2
by T.M. Roy
99¢ for a limited time
Description:
Sergeant Rett is yet unaware of the motivating forces behind the long war in the Nyorfian system, much less her role as a Player in a game of gods. All she knows is that once she and F-troop arrive on Epnoce with the rest of the 2023rd, a harsh climate and heavier gravity are the least of her concerns. Pam is gone--just when she could use the support the most. Jaq wants a transfer. Ariam is acting evasive. Her longtime best friend Evetez seems to be doing all he could to get her in serious trouble--and succeeding brilliantly. All she needs now is a close encounter with an old nemisis from the past...
From the back cover:
The second level in Pheasyce's test begins......and all hell breaks loose.
On the second level of the match that will decide the entity Pheasyce's worthiness to become a full Guardian of Balance, the agent for Dark, Xonomer, has the opening advantages. Pheasyce can only stand by and watch as the ancient force of malevolence launches a most insidious attack to undermine the confidence and morale of the unsuspecting Key Player and those closest to her.
Rett is yet unaware of the motivating forces behind the long war in the Nyorfian system, much less her role as a Player in a game of gods. All she knows is that once she and F-troop arrive on Epnoce with the rest of the 2023rd, a harsh climate and heavier gravity are the least of her concerns. Pam is gone--just when she could use the support the most. Jaq wants a transfer. Ariam is acting evasive. Her longtime best friend Evetez seems to be doing all he could to get her in serious trouble--and succeeding brilliantly. All she needs now is a close encounter with an old nemisis from the past...
Dead to Writes
by Cathy Wiley
Only 99¢!
Description:
Cassandra Ellis is a soon-to-be published author, days away from achieving her lifetime goal. But before she can celebrate, before she can even have her first book signing, she's brought in to Baltimore City Police Headquarters for questioning in connection to a real-life murder.
It seems she's the last person to see the victim alive, since she had just met with the former arsonist to conduct research for her next book. Most damning, her day planner was found next to the body.
When another of her subject matter experts is killed-- again right after meeting with her-- Cassie decides to investigate things herself, rather than leaving it in the hands of the police. Although she'd love to get her hands on the homicide detective assigned to the cases.
Using all the tools available to her, including her research skills, her knowledge of murder and murderers, and… psychic parrots, she tries to solve the case before another friend is killed. Along the way, she finds out that murder in real life is different than murder on the page.
Death Rhythm
by Joel Arnold
99¢ through April
Description:
In this novel of psychological horror and suspense, Andrew Byrd learns of his mother's sadistic past through an aunt he's only just met. When he meets his aunt's strange neighbors, he quickly learns that his mother's savage adolescence was only the seed for a series of awful events unfolding in the present. Will he be able to stop them before it's too late?
And what about the mysterious Evelyn? Will the echoes of an old drum lead Andrew to her? Or will they merely draw him into a vicious cycle that is impossible to stop?
About the author:
Joel Arnold's writing has appeared in dozens of publications, with work accepted by venues ranging from Weird Tales, Cemetery Dance and Chizine to American Road Magazine and Gothic.net. Many of his short stories are available as free podcasts at Pseudopod.org, and three of his short story collections have already been made available for the Kindle. He recently received a 2010 Minnesota Artists Initiative Grant from the Minnesota State Arts Board, as well as a 2010 Gulliver Travel and Research Grant.