Each Angel Burns
Description: In the

19th century

the Monastery of St. Gabriel the Archangel was built on a cliff overlooking the ocean in

Maine

. From early on there were rumors of strange activity there - tunnels through the cliff used by smugglers, a nun who worked miracles, and drunken lumberjacks stormed the convent to kidnap wives were vanquished ay a giant angel with a flaming spear. A century later, when the last nuns were gone, the convent was closed. That's when it was discovered that the convent's treasure, a marble statue of the

Archangel Gabriel

by Italian sculptor Giovanni Dupre, was missing.
In Ripley Mills, MA the "wild bunch", a former high school football team, gather weekly for dinner and beer. Thirty years have changed them. Charlie's boss is young, pretty, and intimidating. Whitey's wife has cancer, Bull's wife just found out about his affair with an exotic dancer, and Vinnie can't get a date. Gabe's daughters have grown up and his wife is making life miserable. Peter doesn't have those problems, he's a Jesuit priest. But they still get together every week to drink, eat, and listen to one another's problems.
Then Father Peter makes a startling revelation, he had once been in love with a girl he met in Paris. He planned to leave the seminary to marry her but she rejected him to marry an older, wealthy man. Pete is happy as a priest teaching at

Boston College

but now Maggie has returned. She is leaving her husband and has purchased an old, abandoned convent in Maine that she plans to convert to a sculpture studio.
On Pete's recommendation Gabe takes the job of helping Maggie to restore the convent. But, as winter closes in, the mysteries begin again. Stories are circulating about bodies of young women washing up on the shore. Maggie's husband refuses to answer her calls. Gabe's cantankerous father, Mick, tells him the truth about his mother who had once longed to be a nun in that convent. Ethan Darling, the local sheriff, is snooping around. Zeke, Gabe's dog, discovers a secret passage in the crypt under the chapel. And Father Peter realizes that Maggie is falling in love with his oldest friend.
Each

Angel

Burns is the story of three people at crossroads in their lives. It is a story of enduring friendship, of faith, of great evil and greater love --- and of how they culminate in a miracle.
Review:
Kathleen Valentine is an author with a vivid eye for detail and a knack for telling a good story. This one is exceptionally well told. It is the story of a tormented priest and an abused wife, along with a cast of believable and captivating characters. Throw in a mysterious old abbey with a storied past, a string of murders, and a globe-trotting villain and you have an engaging and entertaining read.



Ms. Valentine has a gift for description and her often lyrical prose brings the story depth and texture. Describing the view of the ocean from the crumbling abbey she writes, "Silver light from a full Snow Moon rising out of the Atlantic just beyond Owls Head sweeps across the frigid black waters like a trail of angel's wings and shimmers through the frozen night." She paints such vivid pictures that the reader can easily visualize the scenes and the characters in them.



The story pulls you along with surprising twists and turns, and an unexpected ending.

This is one of the best independent novels I have read. Highly recommended.
- Barry Yelton, author of "A Scarecrow in Gray"
Click Below to Buy Your Copy
Buy at Amazon for Kindle
Buy at Amazon in Paperback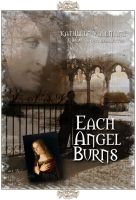 Other purchase options can be found at:
www.EachAngelBurns.com