To submit to my blog for giveaways, contests and sales please check out my Submissions page for more information.
Blog Giveaways!
Click on the blog name to be redirected to that blog to enter.

JohnHartness.com
Win a Kindle or a Nook!
Now through March 2011, I'm accepting entries into a contest to win a brand new Kindle 3 or Nook e-reader! That's right, kids, just for being cool and commenting on this here blog you could win almost $200 worth of swanky electronic toys! And to make it better, I'll load my books onto the device for you, so you don't have to do anything but take it out of the box and start to enjoy it! This contest will run through the end of March, 2011, and here's a sweetener for those of you who already own e-readers -
if you win and decide you don't want a Kindle or a Nook, let me know and I'll send you a $200 Amazon gift certificate!
So no matter what, you can get some cool stuff!
How to enter:
1) No Purchase is necessary. You may earn an entry into the contest by simply commenting on this blog post. You will earn one entry for commenting here. You will not earn multiple entries for multiple comments.
2) You can earn multiple entries, and this is how you do that. You earn two entries for each copy of my books you buy, no max. Just send me an email with the Amazon/Apple/BN order confirmation and your name. Please block out confidential information like where you live.
3) You can earn multiple entries by answering trivia questions about the books, and those will be posted below. You get one entry for each correct answer. Please don't share the answers, the whole point is to generate readers. That said, if you borrow the book from someone, you can still get all the entries for the correct answers.
4) You can get two entries for posting a review on Amazon, regardless of whether you liked the book or not. If you hate it and give it a review (must be at least 100 words, and no bs like "I hated it" 34 times) I'll give you two entries. That's two entries per book reviewed, so the more reviews you write, the more entries you get. Obviously you can only review each book once, because to do anything else skews the review process. And I really do want honest responses, so if you think it's crap, don't be afraid to tell me. I'll just curl up under my keyboard any cry, that's all.
5) You can win extra entries by donating to
24 Hours of Booty on my page
. This is a bike ride to raise money for cancer that I participate in with some folks from work. For every $10 you donate, you get one entry!
Please visit the site for the trivia questions.
JohnHartness.com
***************
Giveaway dates:
Feb 22-Mar 22, 2011
1 copy
available,
496 people
requesting
Countries available:
US
Brand new copy, signed by author.
After witnessing the murder of one of her dearest friends, Khalida finds herself caught between doing what she knows is right and letting go of her past. With the help of the Network, an organization created to keep her secrets buried, Khalida will battle enemies as old as time. But will the secrets of her past destroy everything she knows and loves? Soon, another friend is facing his death, and she will have to save him. Others will follow, and she will have to make the hardest decision of her life. There is only one way to save her friends from this enemy. As she races against time, Khalida will learn that sometimes your past comes back to haunt you, even when you are a vampire.
Giveaway dates:
Feb 22-Mar 22, 2011
1 copy
available,
413 people
requesting
Brand new copy, signed by author.

After being forced to kill her own son, Khalida begins to spiral into a deep depression. With Jake gone and the Network in danger of falling apart, she runs away from Mack and everyone else she loves, hoping that they will be safer without her near.
However, Fate has something else in mind for Khalida, and soon she learns that Vyktor had a secret that he was keeping from her. His secret becomes her chance at redemption.
But atonement doesn't come without a price. She will have to risk everything to find the answers to the mysterious events surrounding her. Has Vyktor come back from the dead to exact his revenge?
The only way to find out is for Khalida to face her fears. She must fight the monster that haunts her and save the one person that holds the key to her past.
Giveaway dates:
Mar 09-Mar 28, 2011
25 copies
available,
611 people
requesting
The highly anticipated sixth book of Jean Auel's Earth's Children® series, THE LAND OF PAINTED CAVES, is the culmination fans have been waiting for.
Continuing the story of Ayla and Jondalar, Auel combines her brilliant narrative skills and appealing characters with a remarkable re-creation of the way life was lived more than 25,000 years ago.
THE LAND OF PAINTED CAVES is an exquisite achievement by one of the world's most beloved authors.
Smashwords Giveaways
The Yellowstone Caldera has erupted once every 600,000 years. We're 40,000 years overdue. Lava flows stretch for hundreds of miles. A cloud of ash billows east, burying the Midwest, destroying crops, and falling upon the Pacific Coast like a warm, dead snow. The remnants of the United States flees south as the global temperatures plummet. These are the stories of the survivors.
Jacob Cox is 18 and finds himself running his family's new business, a dilapidated bar in a forgotten seaside town. Jacob longs to escape his family of villains, liars and psychopaths. Could the bar be his last chance to make money and get away from everyone he despises? Is his family really that bad or is he actually worse than all of them put together? A screwball comedy about family.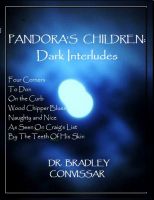 A collection of my first five short stories, plus two new ones, all in one place! the new stories include "By The Teeth Of His Skin", a dark tale of the wicked way the mind works, and "Naughty and Nice", a twisted Christmas tale.
Foxy's Tale (The Reluctant Vampire Series, Book 1)
Foxy Anders has a list of problems as long as a shopping spree receipt from Neiman Marcus. She's a retail spender with no money to spare and a former beauty queen with no man in her life. After a nightmare divorce she's left with one asset, a building off Washington, D.C.'s classy DuPont Circle. By turning the ground floor into an antique shop, Foxy figures she has an excuse to spend money … that she doesn't have.

Foxy also has a teenaged daughter, Amanda, who likes to blog secretly about her biggest problem – Foxy. At least, she thinks Foxy is her biggest problem. But that's all about to change when she hooks up with Nick, a cute guy at school who evidently has a gift for attracting older women. Amanda just doesn't know HOW much older they really are.

When Foxy rents the garden apartment to stylish, shoe-fettishista Knot, who turns out to have a knack for talking wealthy Washington A-listers into Foxy's antiques, it looks as if Foxy will make it on her own after all. Except that Knot is also a genius at creating problems … in his love life.

They're a quirky threesome to be sure, but when mysterious, bumbling, Myron Standlish arrives on the scene with a suitcase full of Yiddish-isms, he brings along his own set of problems, larger and stranger than all of theirs put together. Oy vey. How will Myron's personal journey affect their lives? Well … that's Foxy's Tale.

A comic, chick lit, coming-of-age, vampire tale (sort of) where family triumphs over adversity and mother and daughter learn how to face the world as grownups – together.