To submit to my blog for giveaways, contests and sales please check out my Submissions page for more information.
Blog Giveaways!
Click on the blog name to be redirected to that blog to enter.

Author AdvenTours
Win a $40 Amazon Gift Card.

Here's how it works: Purchase any of the books shown below during the month of February and you will be entered in our gift card drawing. One entry for each book purchase. Already purchased all of them? Why not gift one to someone you love? Forward your reciept to breakoutbooks (at) gmail (dot) com to be entered. (Subject Line: February Blog Tour Giveaway)
All entries will also be entered in the 2011 Kindle Giveaway.
Author AdvenTours
JohnHartness.com
Win a Kindle or a Nook!
Now through March 2011, I'm accepting entries into a contest to win a brand new Kindle 3 or Nook e-reader! That's right, kids, just for being cool and commenting on this here blog you could win almost $200 worth of swanky electronic toys! And to make it better, I'll load my books onto the device for you, so you don't have to do anything but take it out of the box and start to enjoy it! This contest will run through the end of March, 2011, and here's a sweetener for those of you who already own e-readers -
if you win and decide you don't want a Kindle or a Nook, let me know and I'll send you a $200 Amazon gift certificate!
So no matter what, you can get some cool stuff!
How to enter:
1) No Purchase is necessary. You may earn an entry into the contest by simply commenting on this blog post. You will earn one entry for commenting here. You will not earn multiple entries for multiple comments.
2) You can earn multiple entries, and this is how you do that. You earn two entries for each copy of my books you buy, no max. Just send me an email with the Amazon/Apple/BN order confirmation and your name. Please block out confidential information like where you live.
3) You can earn multiple entries by answering trivia questions about the books, and those will be posted below. You get one entry for each correct answer. Please don't share the answers, the whole point is to generate readers. That said, if you borrow the book from someone, you can still get all the entries for the correct answers.
4) You can get two entries for posting a review on Amazon, regardless of whether you liked the book or not. If you hate it and give it a review (must be at least 100 words, and no bs like "I hated it" 34 times) I'll give you two entries. That's two entries per book reviewed, so the more reviews you write, the more entries you get. Obviously you can only review each book once, because to do anything else skews the review process. And I really do want honest responses, so if you think it's crap, don't be afraid to tell me. I'll just curl up under my keyboard any cry, that's all.
5) You can win extra entries by donating to
24 Hours of Booty on my page
. This is a bike ride to raise money for cancer that I participate in with some folks from work. For every $10 you donate, you get one entry!
Please visit the site for the trivia questions.
JohnHartness.com
***************
Facebook Giveaways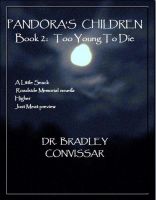 Pandora's Children Book 2: too Young To Die
***************
Giveaway dates:
Feb 06-Mar 06, 2011
1 copy
available,
120 people
requesting
Countries available:
US and CA
Outcast from Hell. Banished from Heaven. Lost on Earth.

The battle of Armageddon was finally fought... and ended with no clear victor. Upon the mountain, the armies of Hell and Heaven beat each other into a bloody, uneasy standstill, leaving the Earth in ruins. Armageddon should have ended with Heaven winning, ushering in an era of peace. That's what the prophecies said. Instead, the two armies--one of angels, one of demons--hunker down in the scorched planet, lick their wounds, and gear up for a prolonged war with no end in sight.

In this chaos of warring armies and ruined landscapes, Laila doesn't want to take sides. Her mother was an angel, her father a demon; she is outcast from both camps. And yet both armies need her, for with her mixed blood, Laila can become the ultimate spy... or ultimate soldier. As the armies of Heaven and Hell pursue her, Laila's only war is within her heart--a struggle between her demonic and heavenly blood.
Smashwords Giveaways
The Yellowstone Caldera has erupted once every 600,000 years. We're 40,000 years overdue. Lava flows stretch for hundreds of miles. A cloud of ash billows east, burying the Midwest, destroying crops, and falling upon the Pacific Coast like a warm, dead snow. The remnants of the United States flees south as the global temperatures plummet. These are the stories of the survivors.
Jacob Cox is 18 and finds himself running his family's new business, a dilapidated bar in a forgotten seaside town. Jacob longs to escape his family of villains, liars and psychopaths. Could the bar be his last chance to make money and get away from everyone he despises? Is his family really that bad or is he actually worse than all of them put together? A screwball comedy about family.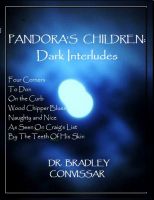 A collection of my first five short stories, plus two new ones, all in one place! the new stories include "By The Teeth Of His Skin", a dark tale of the wicked way the mind works, and "Naughty and Nice", a twisted Christmas tale.