Description
After being shot in the cemetery, Detective Nick Crowell encounters ghosts and people with paranormal problems.

In this collection of nine stories, five of which were originally published in DemonMinds from 2007 to 2008, you'll read about people who's lives have changed so drastically that they seek out Detective Crowell for help. The problem, in many cases, is that there is little he can do. This tends to weigh on him each time.

A few synopsis...
Empath: A young homeless boy discovers that he can feel other peoples pain

Rabbit's Foot: A dying old woman who missed her chance to travel and a young nurse who no longer wants to live, switch bodies!

Unfinished Lives: A man with a promising future is gunned down by a pair of thugs and then, discovering that his spirit can jump from body to body, he plots revenge!

And more...
Empath: Horror Stories, is 99¢ through Kindle.
Author Bio:
Frank lives in

Ohio

with his wife. After making some money off of his cartooning skills in the seventies and eighties, he tried his hand at writing and found some success with it, getting published on a handful of websites.
Most recently he had five short paranormal mysteries published on DemonMinds in 2007 and 2008. The stories feature a fictional Detective Nick Crowell, who, after getting shot in a cemetery, encounters people with paranormal problems. During the course of this series (Frank has 4 novellas planned for 2011) Crowell will try to help these people, despite the fact that he knows that in many cases, there is actually little that he can do. This fact will weigh on him through the series.
Connect with the author:
Blog:
What Brick Wall?
The Man In The Background
by Frank Zubek, a 70 page collection, is up for grabs (free). All you need to do is email Frank Zubek at frank.zubek@yahoo.com and let him know you'd like your free copy. Please specify whether or not you prefer the manuscript be an attachment or directly copy and pasted onto the email. Please note: All copyright laws in the USA apply.
You can find a link below if you'd rather purchase The Man In The Background and show support to the author.
Click below to buy your copy of Empath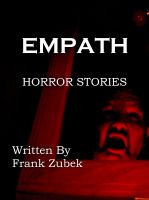 Buy at Smashwords
Click below to BUY your copy of The Man In The Background
*This is not a link to the free copy*