Believable Lies
Neil Crabtree
The paperback features the mannequins dressed for smowmobiling.
The eBook features the
Paul Gauguin
painting "Don't Listen To The Liar" (1887) on the cover.
Believable Lies is a collection of short stories that run a cycle from wild youth through adult life into seniority. Starting with rockers getting stoned and arguing about who invented dry hair, we move through time in the voices of different narrators, as each tries to figure out why the absurd is more available than the real. We have The Greatness, a penis augmentation from Dr. Graytly, and a machine that converts s*it into gold. In Land of Opportunity, seniors are offered cash rewards for Early Termination. And we end with a grandfather with his fatherless grandaughter, wondering how much time he has left. Through humor and pathos, the stories show the world beneath the headlines and the tweets.


Review:
"The stories in Neil Crabtree's debut story collection Believable Lies are bold, risky, and wildly entertaining. Trust me—you're going to be carried away to a more vivid and compelling world than the one you're living in. You'll be laughing so hard you won't realize you're crying. No one should be this good, or this funny, the first time out. Neil's genius is his ability to uncover the sadness that underlies the comic and the grandeur just below the surface of our sorry lives."
---

John Dufresne

, author of Louisiana Power & Light, Requiem, MASS, Is Life Like This? and Johnny TooBad, all from W.W. Norton,

New York, New York
Author Bio:
Neil Crabtree lives and writes in
Miami
. His stories have appeared in online journals for years, and this month in print in American Fiction: Vol. 11, from New Rivers Press. He writes the blog Smashwords Books Reviewed,
http://smashwordsreviewed.blogspot.com
featuring Indie authors. He has two novels,
Rooster
and
Not Dead Yet
to be released in the near future.
Giveaways/Promotions:
For the month of October, Neil Crabtree is offering 2 free eBooks at the Barnes&Noble eBookstore.
The Dead

Mayberrys And Other Stories

( a collection of stories of weird things)
The Big Kaboom
(the preview of my crime novel Rooster)
Connect with the author:
Follow him on
Twitter
at:
http://www.twitter.com/neilcrab
He can be reached at
neilcrab@hotmail.com
.
Click below to get Believable Lies
Buy at Smashwords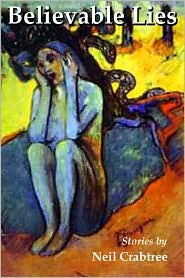 Buy at Barnes & Noble